Dr. Serdar ÇAM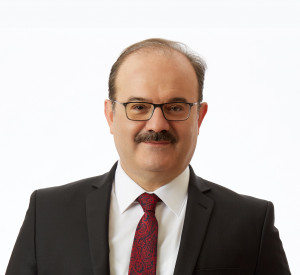 Career highlights
Dr. Serdar Çam, appointed as the President of the Turkish Cooperation and Coordination Agency on 5 June 2011, has worked for seven years (September 2002-August 2009) as the Chief of Cabinet to H.E. Recep Tayyip Erdoğan, then Prime Minister of the Republic of Turkey in his Parliament's Office. Afterwards, Dr. Çam continued his professional career as the Chief of Cabinet to the Speaker of the Grand National Assembly of Turkey (August 2009-June 2011).

Dr. ÇAM started his professional life in 1992 as a junior expert in the Undersecretariat of Foreign Trade/Central Anatolian Exporters' Association. Following his position as a research assistant in Kırıkkale University between 1994-1995, Dr. Çam has served as the Deputy Secretary General of MÜSİAD for three years (1996-1999). He has worked as a high-level manager in several foreign trade companies in Switzerland and Istanbul until 2002.
Education
Dr. Çam received a bachelor's degree in chemical engineering from Middle East Technical University. He carried out his post-graduate studies in Germany and Belgium and earned a master's degree in management from Boston University. He received his Ph.D. from Marmara University in international marketing. Dr. Çam completed his secondary education in "Türk Maarif Koleji" (TMK) in Nicosia (Turkish Republic of Northern Cyprus) due to his father's duty in the Ministry of Foreign Affairs.
Personal information
Dr. Çam was awarded "the Gold Order of Merit and Distinction" by Mahmoud Abbas, President of the State of Palestine in 2016 and "Order of Merit" by Viktor Orban, Prime Minister of Hungary in 2017. He also received "Jubilee Award for the 25th Anniversary of the Foundation of the Republic of Kazakhstan" bestowed by Kazakhstan President Nursultan Nazarbayev in 2017. In addition, Dr. Çam received Turkish Patent and Trademark Office's "International Public Trademark" award presented personally by H.E. Recep Tayyip Erdoğan, President of Turkey, in 2015 and Gazi University's "Best Institution of the Year" award presented personally by H.E. Emine Erdoğan, First Lady of Turkey, in 2017.
Dr. Çam was born on 30 March 1966, in Ankara. He is fluent in English and French, and he has basic knowledge of German and Arabic. He is married with three children.