Mehmet Nuri ERSOY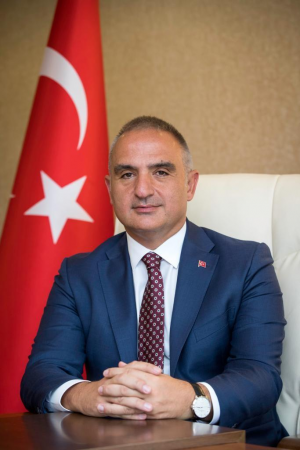 Mehmet Nuri Ersoy was born in 1968 in Istanbul. Ersoy has completed his high school education at German High School and his higher education at Istanbul University, Department of Business Administration.
While he was a high school student in 1985, he started working in tourism sector with small projects and tour guiding. After completing his university education, he has chosen a career in tourism sector which he loved. In 1991, Ersoy had opened up an agency which turned into a company that now provides package tours and hotel accommodation services. Until he was appointed to serve as a Minister, he became the market leader in such a short period of six years by expanding its field of operation and volume. Ersoy, who entered the hotel business in 2000, has a history of more than 33 years in the tourism sector.
After Turkey's transition into the Presidential Government System, he was invited by the President of the Republic of Turkey, Recep Tayyip Erdoğan, to become the Minister of Culture and Tourism.
As of July 11, 2018, after his appointment, he handed over all his duties and titles at his company to professionals.
Mehmet Nuri Ersoy is married to Pervin Ersoy and a father of two children.
Mehmet Nuri Ersoy, who has been serving as the Minister of Culture and Tourism since the 9th of July, within the first cabinet of the Presidential Government System, is fluent in German and English.